Ahead of the premiere of Our Blooming Youth; actors Park Hyung Sik, Jeon So Nee, Pyo Ye Jin, Yoon Jong Suk, Lee Tae Sun and Director Lee Jong Jae graced the online drama presentation.
Our Blooming Youth, a new Monday-Tuesday shows on tvN, is a mysterious theme drama that tells the story of a cursed prince while also investigating a family murder case, in which a brilliant girl is identified as the culprit. It also depicts a youth vindication romance.
"Our Blooming Youth" Foreshadows Conflicts That Would Tangle The Lives Of Park Hyung Sik and Jeon So Nee
Lee Hwan, who will be played by Park Hyung Sik is a Joseon Crown Prince with a handsome face but a harsh and arrogant personality. He has all the perfect qualities including superb martial arts skills and outstanding intelligence that has an eidetic memory. But then, a mysterious curse bound him.
Facing a series of crises while questioning who is responsible for the curse, he works with Min Jae-yi (Jeon So Nee) to uncover the truth for the sake of mutual survival.
February 2023 Korean Dramas: "Our Blooming Youth", "Taxi Driver 2", "Call it Love" & More
---
Relaying the creative process and charming point of the series, Director Lee cites the chemistry of the cast in presenting friendship as one of the drawing factors.
He profoundly explained the trust he has in the work.
"When I met the writer, I committed to this thought: 'I believe in the writer, and the writer believes in me.' I came to work with that mindset. I conveyed the same words to the actors."
He also praised Park Hyung Sik who received warm words for being a great leader among the cast members.
"Park Hung Sik is an actor that directors in Korea should work with at least once," said Director Lee.
Park Hyung Sik Challenges Historical Series Anew
Elated to work on a historical drama, Park Hyung Sik revealed the reason he chose Our Blooming Youth.
"It's been a while since I've done a historical drama, and it's the first time for a Joseon era. I fell in love at one point while reading the script and became curious about what will happen in the story. It has this kind of power that draws excitement."
Sharing he has grown comfortable wearing the crown prince's clothes, Park also unfurled insights about his character.
"It's a 20-episode drama, so the character has many different personalities and tendencies. When he was young, he was a pure, honest, and affectionate child, but at some point, he went through an incident and changed. He realized he couldn't trust people. He is a character who lives a life without anyone around him. then, he meets Jae-yi and solves the problems together. Eventually, he grows and shows a new side of himself in a new story."
Asserting how he battled the pressure of his new work; Park positively deems he has done his best.
"I think I was more immersed in the role that I was not able to feel that burden. Also, I did my best fearing that such a burden would stress me more and I would not come out with more things to express."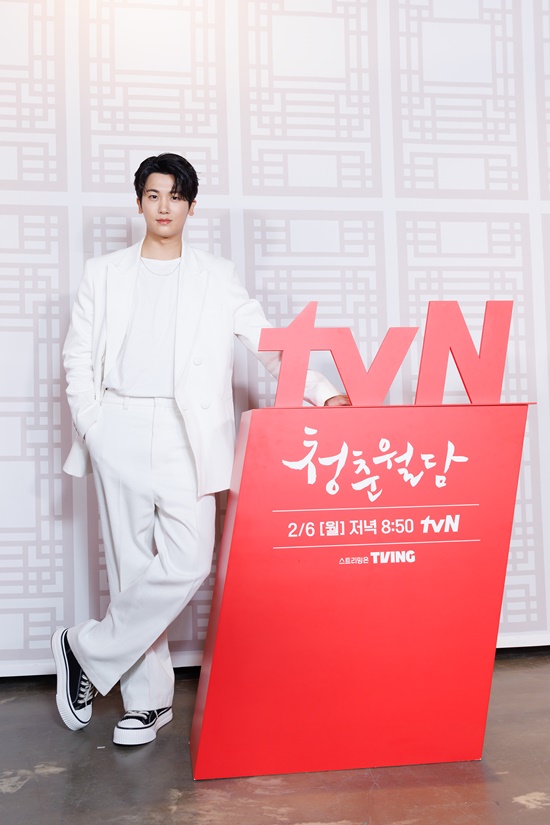 ---
Our Blooming Youth Character Preparations
Echoing Park Hyung Sik's mindset to focus on character building, his co-stars convey their thoughts about their characters and work.
Jeon So Nee who portrayed a cross-dressing woman poured her efforts into the identities of the characters she breathes life to.
"I was satisfied that I was able to experience so many different things while living as Jae-yi and Sun-dol. I had a lot of worries but I thought about the identities of Jae-yi and Sun-dol. I didn't think about the burden or the difference in being tied to the cross-dressing character category."
Remarking Our Blooming Youth to be her dream project, Pyo Ye Jin conveyed how the series made her blend her character into the whole picture.
"Sageuk is also a genre I want to try someday, and if I were to do a historical drama, I had a vague desire to do a youth historical drama. If Taxi Driver was a drama that pushed me to mature as an actress for my character, Our Blooming Youth focused on my relationship with other people rather than my personal character."
Taking pride in his new character, Yoon Jong Suk expressed happiness working with his co-stars and Director Lee.
"I don't think there was a role that allowed me to do deeper and more research when I was doing historical dramas in the past. I was a silent, non-expressive, and not very emotionally involved person in the past. But this time, I honestly expressed my heart genuinely like how youth should be."
Our Blooming Youth premieres on February 6. International fans can watch it on Prime Video.