Adam Sandler and his production company Happy Maddison Productions, are a powerhouse production company for Netflix. Below, we'll look at everything set to come to Netflix from the actor and production company in 2023 and beyond.
Of course, Adam Sandler has now been producing movies for Netflix exclusively for years, with 7 feature films, a stand-up special, and a handful of movies produced by his banner, Happy Madison. The deal has been in place for years, although it was renewed in January 2020 for an additional four feature films.
Let's recap all of the Adam Sandler movies/Happy Madison movies to have been released on Netflix so far:
Hustle – Released on June 8th, 2022
Home Team – Released on January 28th, 2022
Hubie Halloween – Released on October 7th, 2020
The Wrong Missy – Released on May 13th, 2020
Murder Mystery – Released on June 14th, 2019
ADAM SANDLER 100% FRESH – Released on October 23rd, 2018
Father of the Year – Released on July 20th, 2018
The Week Of – Released on April 27th, 2018
Sandy Wexler – Released on April 14th, 2017
The Do-Over – Released on May 27th, 2016
The Ridiculous 6 – Released on December 11th, 2015
One notable exception in this list is Uncut Gems which was released under the A24 banner in the United States (where it no longer streams). However, Netflix does hold all the international distribution rights to the movie still.
If you want to see all the Adam Sandler movies in your region, Netflix has a category code for "Welcome to the Sandlerverse" (81614575).
---
Movies Starring Adam Sandler Coming Soon to Netflix
Murder Mystery 2
Coming to Netflix: March 31st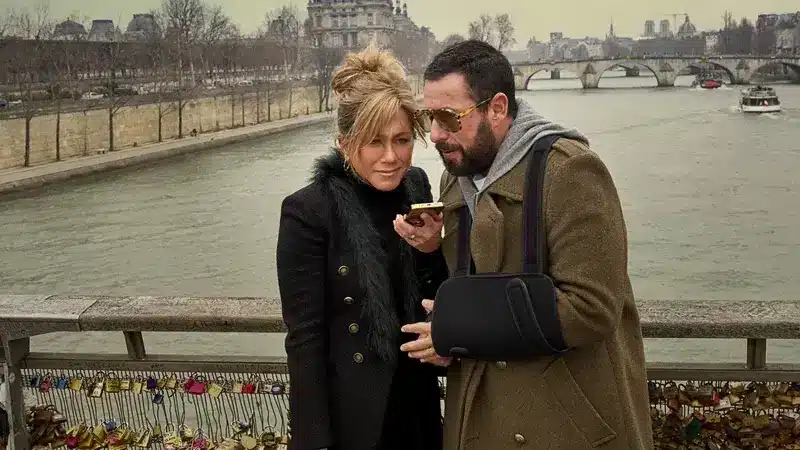 For a long time, the first Murder Mystery held the number 5 spot on the most-watched Netflix Originals movie list (with statistics announced by Netflix) but has since been supplanted. Will a sequel manage to top it? We'll soon find out.
A sequel has been in development since 2019 following the first movie's success, with Adam Sandler and Jennifer Aniston returning to their roles at the Spitz.
The film was shot in early 2022, wrapping in April 2022. Among the locations for shooting for the sequel included Paris.
---
Leo
Coming to Netflix: November 22nd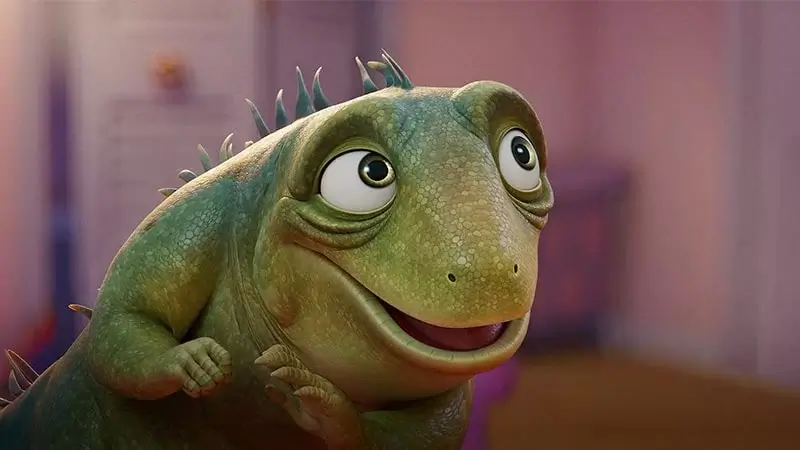 Previously set up at STX Entertainment, Leo is the new animated movie coming from Sandler's team, with Sandler voicing the role of Leo, a class pet who will be experiencing the last year of elementary school.
Also voicing in the new movie is Bill Burr, Cecily Strong, Jason Alexander, and Rob Schneider.
---
Spaceman (Originally Spaceman of Bohemia)
Coming to Netflix: Fall 2023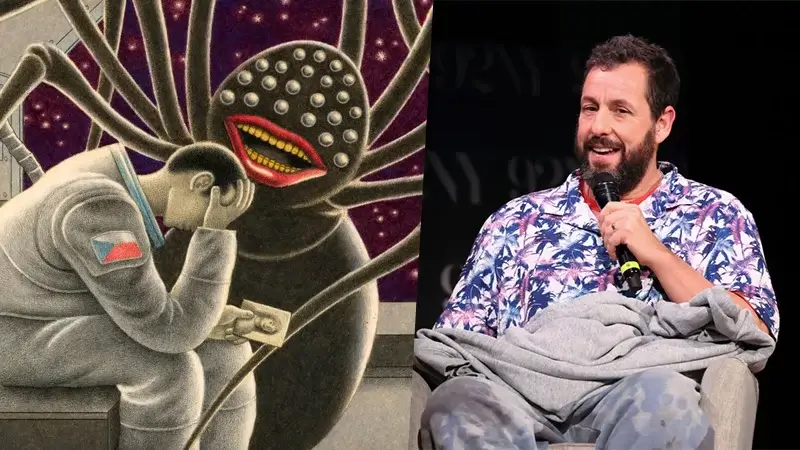 Our most-anticipated Netflix Original from Sandler to date is Spaceman of Bohemia and we'll finally get to see it in late 2023.
Directed by Johan Renck, the movie will follow the humble beginnings of a young orphan who eventually grows up in a remote part of the Czech Republic to become an astronaut.
It's an adaptation of a well-known book, and the movie was shot between April and July 2021 with a budget of somewhere between $30 and $50M.
---
You Are So Not Invited to My Bahmitzvah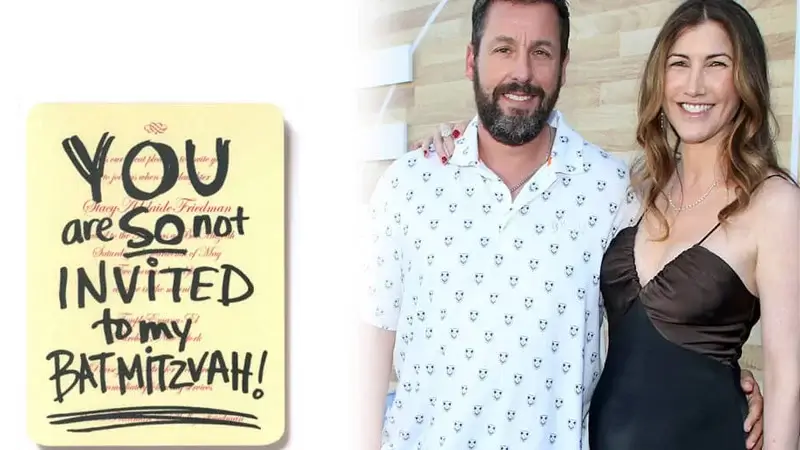 Happy Madison Productions and Alloy Entertainment are teaming up for this new comedy movie based on the book by Fiona Rosenbloom that was filmed in Toronto between June and August 2022.
The movie's plot revolves around a girl's bat mitzvah that unravels and threatens to ruin one of the most important events of her young life.
---
Untitled Safdie Brothers Project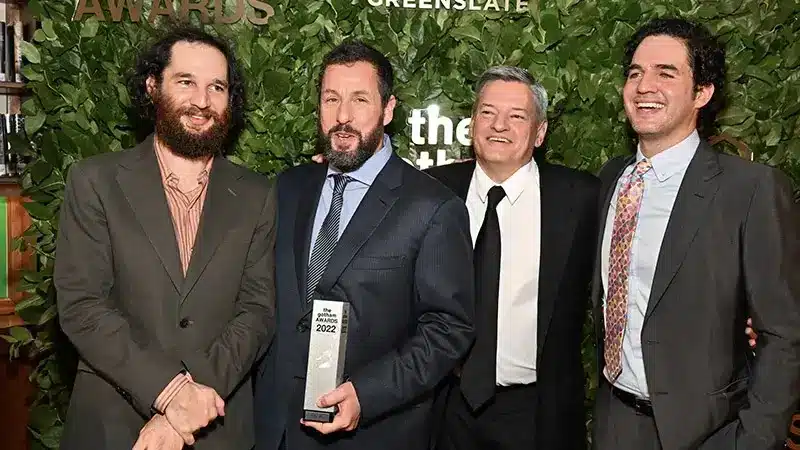 Following the success of Uncut Gems, the Safdie Brothers and Sandler will be teaming up for a new project that's believed to be about baseball cards in NYC in the 90s.
Beyond that, we know very little about the upcoming project, so watch this space.
---
Untitled Noah Baumbach/Brad Pitt/Adam Sandler Movie
In December 2022, the NYPost reported that Noah Baumbach will be directing a new movie with Sandler and Pitt due to star.
---
Happy Madison Movies Coming to Netflix
Please note: Adam Sandler will serve as executive producer on these projects but not necessarily star in them.
The Out-Laws
Coming to Netflix: 2023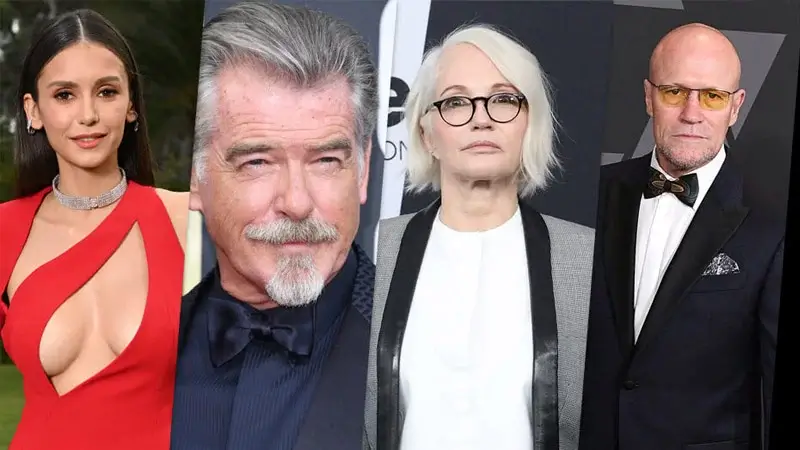 Tyler Spindel is set to direct this big new action comedy movie filmed in late 2021.
Here's what you can expect:
"Owen Browning is a straight-laced bank manager about to marry the love of his life, Parker. When his bank is held up by the infamous Ghost Bandits during his wedding week, he believes his future in-laws who just arrived in town, are the infamous Out-Laws."
Among the impressive cast assembled for The Out-Laws includes Pierce Brosnan, Michael Rooker, Nina Dobrev, Ellen Barkin, Richard Kind, Julie Hagerty, and Poorna Jagannathan.
---
Rumored Adam Sandler Projects in Development
There are plenty of rumored projects Adam Sandler either wants or is planning to bring back, but without official confirmation, we can't include them above.
Here are a few of the rumored projects in development starring or produced by Sandler:
What Sandler movie are you most looking forward to? Let us know in the comments down below.