Kang Ha Neul and Jung So Min reunite for 30 Days, a rom-com movie!
Previously, the two worked together in the film Twenty.
30 Days (tentative title) is a romantic comedy film directed by Nam Dae Jung starring Kang Ha Neul (When the Camellia Blooms, Insider) and Jung So Min (Alchemy of Souls, Because This Is My First Life).
The story begins as a romance but turns into a thriller. No Jeong Yeol (Kang Ha-neul) and Hong Na Ra (Jung So Min) who were once head over heels in love became unhappy with their marriage. They agree to end their married life. However, 30 days before the scheduled separation, Jeong Yeol and Na Ra lost all their memories in an unexpected accident.
Giving a peek at their roles, the production team shared that Jeong Yeol is not just a man with outstanding visuals but also has exceptional intelligence. Unfortunately, he has a miserable past that he can't seem to let go of. Meanwhile, Na-ra is a confident woman, who has a chic charm that no one else has, but is difficult to understand.
Potential viewers should look forward to how the lead pair embarks on their journey along with their conflicting personalities.
A Glimpse at The First Table Read
The newly-released photos capture the light and playful atmosphere of the cast of 30 Days. During the recent script reading, Kang Ha Neul can't seem to hold back his laughter. On the other hand, Jung So Min is trying her best not to stifle a smile while staring at the script.
Director Nam Dae Joong, who was adored by the audience for his sensuous direction for comedy, was also photographed concealing his emotions as he took notes.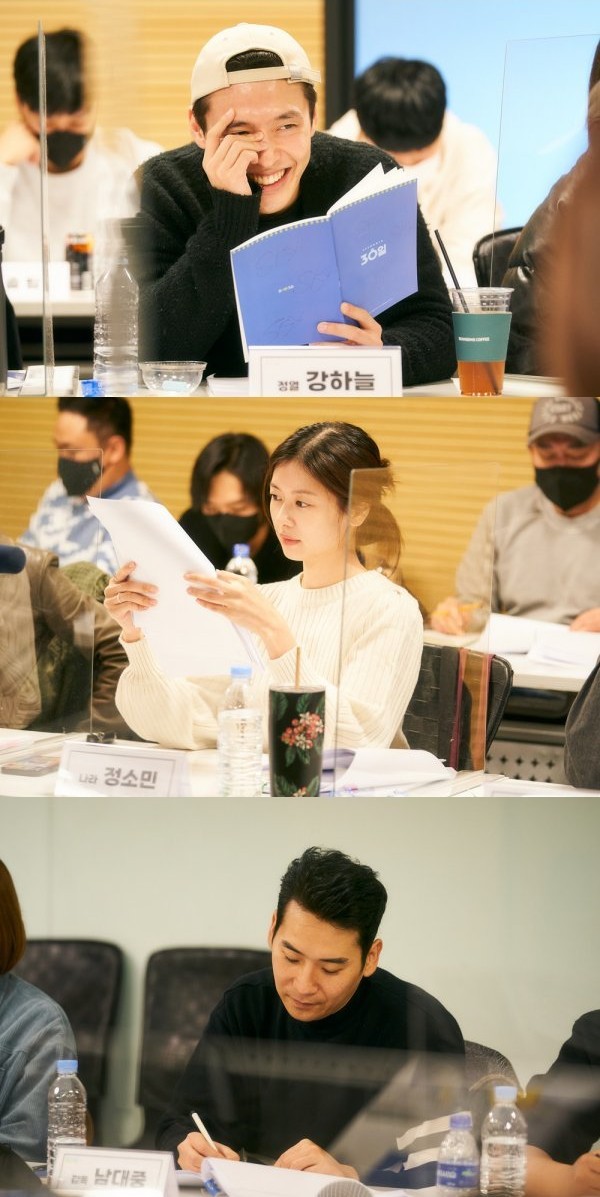 Sharing his thoughts about the movie, Kang Ha Neul promises good news to his fans.
"I'm so happy to reunite with Actor Jung So Min on a project that has a variety of charms. The expectations are high but I'm looking forward to the set led by Director Nam Dae Jung. I will do my best to bring my character to life." 
Likewise, Jung So Min echoes the same happiness and excitement for her latest project.
"I'm very excited that my new project will be in the romantic comedy genre. I'm honored to have a valuable relationship with good seniors, fellow actors, and staff."
Director Nam Dae Jung remarked, "It's such an honor to meet attractive actors and great staff. I will do my best to meet you through interesting works."
---
Source: Sports Donga  | Photos: Mindmark Co., Ltd.