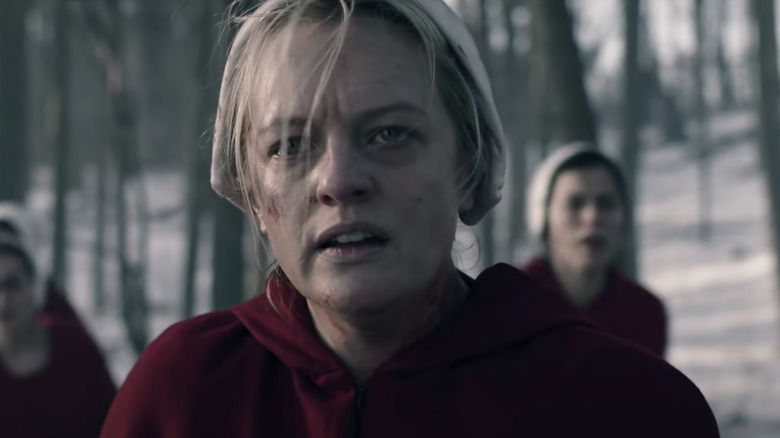 Hulu
Most actors can be proud to say they've embodied one all-time-great TV character in their lifetime, but by my count, Elisabeth Moss has played at least four. In the late '90s and early aughts, she was Zoey Bartlet, the president's daughter on "The West Wing." A year after that series ended, she started her run on "Mad Men," where her ad writer Peggy Olson became a more beloved character than most any of the show's titular men. Finally, she took on two tough-as-nails roles, first as traumatized detective Robin in "Top of the Lake," and then as hero June Osborne in the dystopian series "The Handmaid's Tale."
It's a stacked small-screen career, one that seems like it doesn't leave much breathing room for the Emmy winner. But according to the actress herself, great projects are hard to resist. Moss appeared on the Smartless podcast this week, where she spoke about what it was like to join "The Handmaid's Tale." The series, now in its fifth season (its sixth will be it's last), began in early 2017, at a time when the country was especially receptive to its story about a government that treats women like property.
Before she signed on, though, Moss apparently worried about committing to another series so soon after her last one wrapped up. "I had read the book years ago, but didn't really remember it that well," Moss shared. "So I read the script with fresh eyes, which was great, and 'Mad Men' only finished a year before or something, so I really didn't intend to get into another series." The seven-season run of "Mad Men" was undoubtedly acclaimed, but also a major time commitment, especially when Moss went to film "Top of the Lake" between seasons.
The script won her over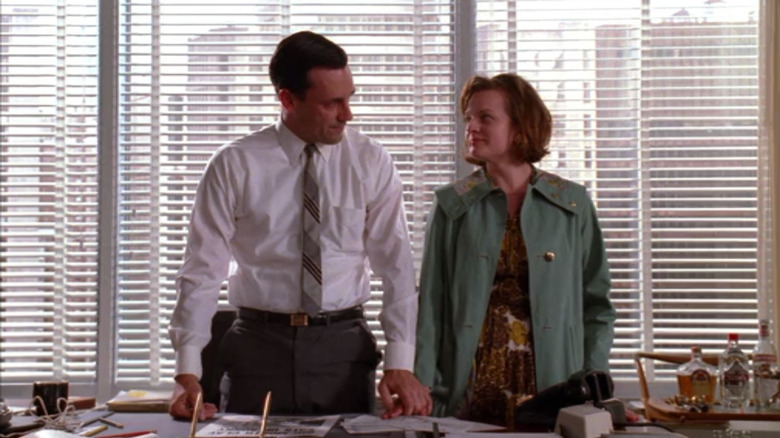 AMC
The actress says she was in Sydney working on the second season of Jane Campion's bleak mystery series when the script for "The Handmaid's Tale" came in and made her change her mind about keeping her TV schedule clear. "I was doing the thing of, 'I'm going to go and have all of this time!' But then I read this script and it was so good, and I said 'Can I see the second one?'" Moss says upon reading the second episode script, she declared, "'F***, it's even better!'"
It may have been the script for "The Handmaid's Tale" that won Moss over, but she officially got on board once successful producer and executive Warren Littlefield got involved. Moss said she asked if they could get someone Littlefield-esque to produce the Margaret Atwood adaptation, and was met with the news that the production could get Littlefield himself. With the "Fargo" executive producer on board, Moss was as well, and from there she got to try her hand at producing and directing.
She's on a hot streak that doesn't end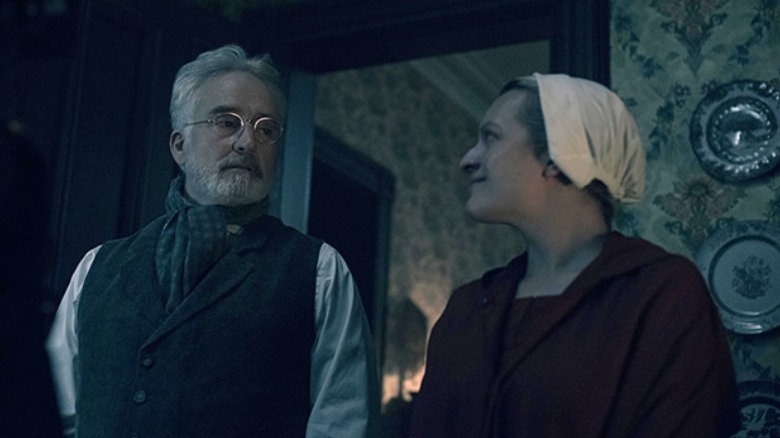 Hulu
It sounds like, although Moss wasn't looking for a TV gig after "Mad Men," the one she found was exactly right for her. She recalls being offered a producer credit but saying she didn't want it if it was just going to be a title. Instead, Moss says she was able to get guidance from Littlefield. "And then I started to learn and I started to really love it," she told Smartless. "I loved the involvement it gave me on a creative level, not on a control level." 
Later, she became a director on the series as well, saying that she "wanted to embrace another part of telling the story" that she calls her baby.
When "The Handmaid's Tale" ends after its sixth season, I wouldn't blame Moss if she really does take that rest she had planned around 2016. After all, the series is emotionally grueling to watch and is almost certainly more exhausting to film. But a part of me also hopes Moss finds another script with the unique magic that's led her to so many great projects so far. 
If anyone can keep a 20+ year TV hot streak going, it seems like it could be Elisabeth Moss.